Primary Residence Sale – Taxes and Implications
The recent uptrend in real estate prices has put a lot of people in the good position of having substantial capital gain in their primary residence. It is critical for anyone in this sweet spot to understand their options as the IRS is offering some great tax benefits when selling your primary residence at a gain.
The general rule is that if you have sold your main residence at a gain the first 250K in profit are not taxable, 500K if married filing jointly. In order however to make sure you qualify you need to satisfy all the requirements listed below:
You owned and used as main home the residence for at least 2 of the last 5 years before the date of the sale
The residence was NOT acquired through 1031 like kind exchange
You didn't claim any exclusion for the sale of home in the last 2 years before the sale of the residence
In order to figure your gain of the house you need to follow the following formula: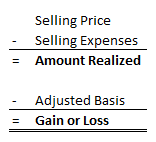 If you don't however meet the criteria listed above you can still get a partial exemption if you sold the home because of work-related move, health or unforeseeable event.
You can read the full IRS publication here:
Sources Used:
https://www.irs.gov/publications/p523